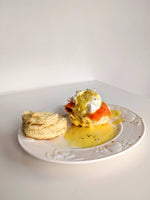 Ingredients 



Stock Market Hollandaise Sauce

 


Stir the water with a clockwise motion using the handle of a spoon.
Crack an egg into a small bowl.
Gently pour the egg into the centre of the pot, letting the water swirl around it and allowing the white to envelop the yolk.
Repeat with remaining eggs.

Look for just a few bubbles; it should never boil.