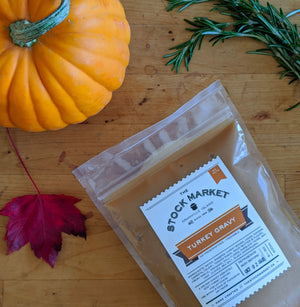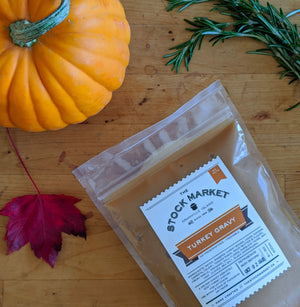 On Sale
Turkey Gravy
Our Turkey Gravy is that holiday dinner essential!

Save time and stress on the big day and let us do the hard work for you.
It also works great as a quick and easy back up for when you inevitably run out of gravy, there is always one who ends up taking too much & of course don't forget enough for all those leftovers too!

Also check out our Turkey Stuffing and Cranberry Sauce to really complete that perfect Holiday Dinner!
Happy Holidays!
No Nuts

Ingredients: Turkey Stock (Water, Roasted Turkey Bones, Leeks, Onions, Carrots, Celery, Tomato Paste, Garlic, Thyme, Bay Leaves, Cloves, Black Peppercorn, Sea Salt), Roux (Butter, Flour).

Our stocks & broths are sold frozen online. Use within 3 days after thawing. Frozen shelf life of 6 months from date stamped on package.